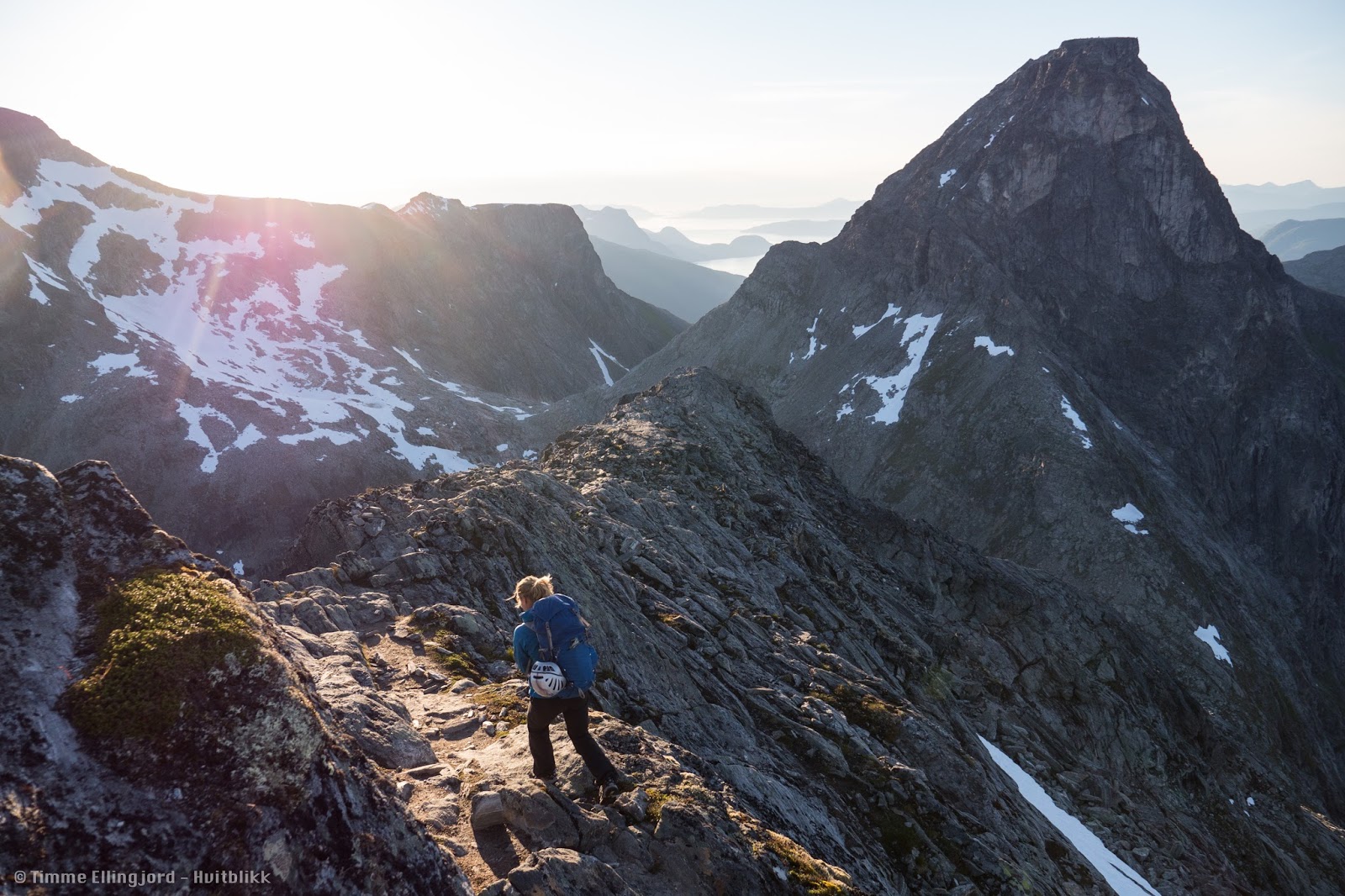 We offer several guided climbing trips for all, both for the experienced and the inexperienced.
Have you never climbed before? But still dreams about climbing Mt.Stetind?
Or maybe you are travelling with children and spouses, but still want to go for a climb and are in need for a partner?
See what we have to offer, and feel free to contact us if there's anything you're wondering about.
Mt. Stetind - Normal route
Norway's national mountain, or "God's Anvil", as the mountain is also called, is a bit of a classic in Norwegian mountaineering community. The trip takes you straight from the sea and to the top at 1392 MAMSL, giving you a view never seen before. The climb is not hard, but requires that you are fit and have the ability to overcome your inner fear of heights.
Mt. Kuglhorn - East-ridge
The mountain is not far from Mt.Stetind, and has in many ways has fallen in the shadow of its bigger brother, but it actually offers far better climbing. The trip takes you over a long, dragon shaped ridge, with several exposed points and very nice climbing. The trip is suitable for those who are a bit more experienced in climbing.
Eidetind I - short day.
Mt. Eidetind is located on the other side of Kuglhorn, offering easy but varied climbing in beautiful Efjord surroundings. The routes here are of good quality, and are usually suitable for a nice introduction to rock climbing. Short approach and a beautiful view is often a winning recipe. This is usually the place to test your level before a longer trip or just to have a short but nice climb out
Efjorden / Stetind Lofoten
Mt. Stetinden - the South Pillar
The South Pillar, undoubtedly the "Creme de la Creme" of the area, offers 13 pitches of beautiful climb on solid and delicious granite, in surroundings more beautiful than most has ever experienced before. But with over 2 hours of approach and climbing that slowly but surely takes you from grades around 5.3 (3) and all the way until 5.10 (6a), this is a route which is suitable for those who have already done a lot of climbing earlier.
Mt. Eidetind II - long day. "Mt. Eidetind-traverse"
Do you want a long and nice climb, but far away from the hustle and bustle of Mt. Stetind? Then this is the trip for you. The trip will give you varied climbing of good quality while allowing you to enjoy the area's best views. The trip has a short approach, so let's spend time and energy on what really matters: climbing. After we climbed to the top, we walk a long and beautiful traverse, before we visit Ofoten's unknown "Preikestolen".
The Svolvær Goat - Frontside
The Svolvær Goat is a Lofot-classic. The mountain is towering high above the capital of Lofoten, providing one of the finest and most spectacular climbing routes in the area. Instead of climbing "the normal" tourist way, in the shadow valley on the backside, we climb the front side, which gives you sun, view and excellent climbing. The route can at some points be a bit demanding, but that makes it even better to get up.
Vågakallen - North ridge
This "old man" is an impressive figure. This is one of the longest routes in Lofoten. The trip is long and you have to be in good shape to keep up. First, awaits a 2 hour long march before we start on the long ridge towards the top of "kallen". The climbing is fairly simple, but along the way you encounter difficult and expossed sections that culminate in the "last leap" towards the top
"Pianohandler Lunds Rute" - first meeting with rock climbing
For those like me, who have started climbing in Lofoten, this is usually the first or one of the first routes to climb with your own protection. The route is a classic among the course routes, providing surprisingly cool and varied climbing, even among those who have climbed before. Last but not least, as always in Lofoten, one meets with a magnificent view.
"Bare blåbær" - Lofoten classic
There are not many other climbing routes in Lofoten, which are known to be so famous and so loved by climbers as "Bare blåbær". Countless climbing courses have been led up the route, and the dead solid cracks and dihedral of the route has made it legendary. Have you not learned to jam yet? Then you will soon see that the route is not that easy as it seems.